Through the learning of osteopathic manipulative medicine, DO students have been attempting to understand how to get patients' bodies into 'positions of ease' for decades.
Since 2018, OnlineMedEd has been dedicated to getting osteopathic students' minds there too.
With 25 lessons totaling more than seven hours of video time, OnlineMedEd's OMM component has been embraced by future DOs worldwide. More than 71,000 of our registered users are DO students, including over 58,000 who are United States-based.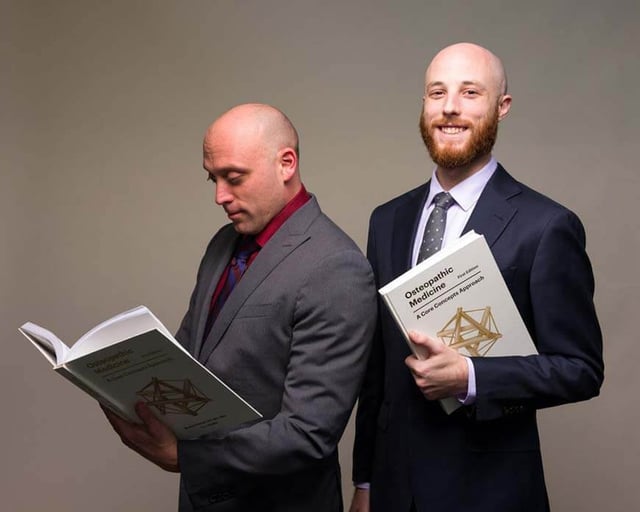 With the publication and release of Osteopathic Medicine: A Core Concepts Approach, OnlineMedEd's commitment to their future as physicians has taken another big step forward.
Featuring nearly 300 illustrations and tables, easy to follow high-yield osteopathic manipulative treatment (OMT), and a reinforced mastery of core concepts, Osteopathic Medicine: A Core Concepts Approach provides a total rethinking of the way OMM is learned and understood.
Dr. Dustyn Williams—OnlineMedEd co-founder and lead educator—says the new resource is a game-changer for DO students.
"It's the first book that explains OMM in a way that readers can actually understand it and the only book in existence that illustrates—and shows the learner—what's going on with OMM," he says. "If you read this book, you'll ace any OMM-related question on an exam. That's just a by-product of the understanding it imparts."
To find the early kernels that led to Osteopathic Medicine: A Core Concepts Approach, one must travel to Harrogate, Tennessee.
As a med student at Lincoln Memorial University-DeBusk College of Osteopathic Medicine, it was there that Dr. Jeremy Polman—OnlineMedEd's lead OMM educator—first wrapped his head around the topic.
Initially, Polman found it a challenge. Learning resources accompanying the OMM curriculum were severely limited, leading him to think about a better approach. He returned to LMU-DCOM as one of six on a pre-doctoral teaching fellowship, a group who'd do so well they were nicknamed the 'golden fellows.'
As lead OMM fellow, Polman sought to road-test new ideas to find a more direct way of learning OMM. He taught classes, ran labs, and helped prepare tests. Along the way, his new approach, focusing on core concepts, was tweaked and fine-tuned.
Polman knew then that illustrations would be pivotal to maximum comprehension but found a way to work without them; first at LMU-DCOM, then later at OnlineMedEd. "He re-invented the paradigm on which they were teaching [OMM]," Williams says of Polman.
If you read this book, you'll ace any OMM-related question on an exam. That's just a by-product of the understanding it imparts.
An OnlineMedEd user himself while a student, Polman reached out to Williams in early 2018. He pointed out that OnlineMed didn't have any OMM curriculum—and wanted to know if they could work together.
From their early meetings and interactions, Williams was keen. In Polman, he saw a natural medical educator with a passion for improving understanding on a subject that had long lacked a straightforward, memorable way of being taught.
"He was a very willing mentee; he had this raw natural talent," Williams says of Polman. "I can't tell you what it was, but he did a video on his iPhone [and sent it to me] … he had enough of the things that I saw that I could mold into an OnlineMedEd educator."
In many ways, Polman's journey mirrors Williams. Both were in medical school, thought to themselves, 'there's got to be a better way to do this," and sought to find out how. Like med students everywhere, Polman has benefited from OnlineMedEd laying the groundwork for learning innovation.
Becoming good friends along the way—Polman will often stay at Williams' Austin home when in town to work with OnlineMedEd—the pair have worked closely as Osteopathic Medicine: A Core Concepts Approach was brought to life. With the inclusion of high-quality illustrations, Polman's OMM approach had finally—fully—reached its potential.
"Having validated his teaching style at LMU, [Jeremy] came to us to revalidate his teaching style in terms of OMM," Williams says.

"Seeing all that success, and getting good feedback, he found the thing missing from the space is illustrations. It's hard to visualize these things – good illustrations are unbelievably important. The beauty of the book is in the illustrations."
For OnlineMedEd, the creation of Osteopathic Medicine: A Core Concepts Approach over the last year was perfect timing, Williams says.
"We couldn't have made this book three years ago because we didn't have our illustrators, style guides, and rules," he says. "We were only able to publish this book now with the processes we have and Jeremy as a resource."
Williams has found that Osteopathic Medicine: A Core Concepts Approach isn't just a book for DO students. Through its creation, he admits to receiving his own crash course in OMM.
"I didn't know osteopathic medicine, but helping put the book together, I feel like I know it now," he says.
"I feel like I can passively have a legitimate conversation with an osteopathic physician about the medicine, diagnosis, and treatment. I can't actually do it—assess for dysfunction or perform a treatment—but I know it now."
While Osteopathic Medicine: A Core Concepts Approach won't take people from "zero to the master of OMM," Williams is confident it will quickly become required reading for DO students and faculty.
"We hope that every DO student who actively engages with OMM, and needs it sincerely, is going to get a huge boost from this resource," he says.
"We think faculty will be noticing the difference, too. I'd like to think that we'll have faculty thinking, 'holy crap, all of my students are in the lab and know what to do already.' Not every faculty member will be on board, but when students show up already knowing the foundation, faculty can apply their expertise to augment student learning.
"That's going to take some time, but we definitely feel like that could happen. In the meantime, we know students are going to see their scores increase as well as their competency, confidence, and satisfaction."