Last Monday, a 52-year-old woman from New York unrolled her left sleeve, and entered the history books.
A nurse at Long Island Jewish Medical Center in Queens, Sandra Lindsay was the first American to receive the first of her two COVID-19 vaccine shots, outside a trial. A 90-year-old English grandmother was the world's first, a week before her.
In the coming seven days, more than 614,000 Americans, across 40 states, would join Lindsay in receiving Pfizer/BioNTech's historic mRNA vaccination. Most have been frontline healthcare workers.
With the second vaccine, from Moderna, cleared for emergency production by the Centers for Disease Control and Prevention (CDC) last Friday, it is hoped that up to 50 million more will too, by the end of January 2021.
I feel like healing is coming. I hope this marks the beginning of the end of a very painful time in our history.
Those figures represent genuinely great news during a week that has seen the Covid-19 global pandemic deliver nothing but horrifying headlines in the United States.
The New York Times has reported an average of 216,070 new positive cases a day over the last seven days, a 10-percent increase from two weeks prior. Tennessee, Georgia, Arkansas, and South Carolina are amongst the states worst hit currently, as the overall death toll nears 320,000 in the U.S.
Though the increasing numbers of those receiving COVID-19 shots paint a far more encouraging picture, a myriad of challenges in their distribution—including uneven distribution amongst healthcare workers themselves, cold chain issues, and potential political meddling—may be set to define the vaccine rollout.
"I have seen the alternative [to a vaccine], and do not want it for you," Lindsay, who has served on the Covid-19 frontlines this year, told the media last week.
The initial rollout
The very fact that two effective COVID-19 vaccines are already being distributed in America, as well as a handful of other nations, represents an extraordinary scientific achievement in its own right.
Both green-lit vaccines have adopted a synthetic approach never before used in human vaccines. Using 'messenger-RNA' or mRNA, the vaccines replicate the "biomolecule that connects DNA and proteins", training our immune system to target the spike protein found on the coronavirus' surface.
Though research into mRNA vaccines has been ongoing since the 1990s, COVID-specific efforts only began this January. Including exploratory phases, pre-clinical trials, vaccine trials, and drug agency vetting, development usually takes years.
"The amazing progress in advancing a vaccine through to use in humans surely sets a new standard for what can be achieved when sufficient resource[s] and scientific focus is applied to global health," Dr. Stephen Griffin, a virus expert at the United Kingdom's Leeds University, told the Guardian.
Though the clock is ticking, it is hoped around 20 million Americans will receive their first Covid-19 shot before the end of 2020, with their second following three weeks afterwards. Dell Medical School, a partner of OnlineMedEd, was amongst the first in Texas to receive Pfizer doses.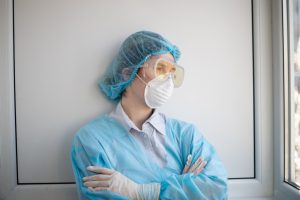 The CDC has prioritized frontline healthcare workers, and residents and staff at long-term care facilities amongst this first group. Those who live, and work, in long-term care have accounted for around 40 percent of all COVID-19 deaths in the U.S.
A CDC advisory panel says those older than 75, and 'essential' frontline workers, like first-responders, teachers, correctional staff, postal and grocery store workers should be amongst the second group to receive a vaccine in the early months of 2021.
The panel decided those older than 65, along with Americans with high-risk medical conditions and other 'essential' workers will be in the third group. The initial 'higher priority' phase of the rollout will likely extend into the spring.
By the time distribution begins to occur amongst the general public, thought to be likely in the summer, several other effective vaccines will have almost certainly joined the Pfizer and Moderna options.
With initial vaccines requiring cold storage before usage, a number of American pharmacy and grocery chains have signed up for additional refrigeration facilities as available vaccine numbers increase.
Politicians have been amongst the first group of Americans to receive vaccines, with the likes of Vice President Mike Pence, President-elect Joe Biden, Senate Majority Leader Mitch McConnell, and House Speaker Nancy Pelsoi all receiving their first shot, publicly.
Over the weekend, U.S. lawmakers finally agreed to a pandemic stimulus package that will include around $8 billion for vaccine distribution.
President Donald Trump, whose $18 billion Operation Warp Speed provided crucial support for vaccine research, has yet to reveal whether he intends to receive a vaccination in front of cameras. Both Trump, who tested positive for COVID-19 in October, and Biden plan to make at least the first part of any Covid-19 vaccine free, for all Americans.
"We can see the light at the end of the tunnel," Pence said, after receiving his vaccine.
Challenges ahead
Despite the hope, plenty of challenges must be surmounted before America's COVID-19 crisis passes.
"Operation Warp Speed has delivered two Cadillac vaccines to us," Dr. Jeffrey Duchin, a non-voting member on the CDC advisory panel planning the vaccine rollout, told STAT News. "But they've come with empty gas tanks and we have a long and difficult road ahead of us."
Described by USA Today as "the first major hiccup of the [vaccine] rollout", states recently discovered they would be receiving up to 40 percent doses of the CDC-cleared Pfizer vaccine than they were initially informed.
A result of using estimates of vaccines produced, not vaccines that had cleared quality control, the mistake has seen the likes of Washington, New Jersey, and Massachusetts scramble to rewire their initial distribution plans. The head of Operation Warp Speed has since apologised for the mistake.
Operation Warp Speed has delivered two Cadillac vaccines to us. But they've come with empty gas tanks and we have a long and difficult road ahead of us.
"The states are real people making real plans based on numbers," Dr. Kelly Moore, associate director of immunization education at the Immunization Action Coalition told USA Today.
"They deserve the truth, whatever it is. They can handle it. What they can't handle is a 40 percent drop with less than a week's notice."
Issuing of the vaccine within hospitals has already been creating problems. A deeply-reported ProPublica story last week revealed Stanford Medicine residents were being overlooked for the initial phase vaccinations, with only seven receiving one out of the first 5000 at the Palo Alto hospital.
Stanford Medicine has 1300 residents across all medical disciplines, with many "asked to volunteer for ICU coverage" due to the expected COVID-19 holiday surge.
"Residents are patient-facing, we're the ones who have been asked to intubate, yet some attendings who have been face-timing us from home are being vaccinated before us," Sarah Johnson, a third-year resident who has delivered babies from Covid-positive mothers this year, told ProPublica.
"This is the final straw to say, 'We don't actually care about you."
Stanford Medicine blamed a faulty algorithm for the issue, which our own Catlin Hudon has since debunked, and rectified their plans, but in-hospital politics seem certain to linger across the U.S. At Chicago's Loretto Hospital, around 40 percent of staff do not plan to get the vaccine, a growing trend that is alarming many within the medical community.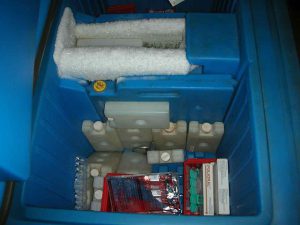 With the Pfizer vaccine requiring -94 Fahrenheit storage, cold chain issues could hamper distribution in the rural U.S., which, due to existing medical deserts and staffing issues, has been ripped apart by the pandemic.
The fact the Moderna vaccine may be kept in refrigerator temperatures for up to a month is more promising for non-urban Americans, though prioritizing it for those regions ahead of cities may be a difficult needle to thread.
State politics may play an outsized role too, with local politicians themselves able ignore CDC guidelines and decide on vaccine prioritization, themselves. With Black, Latino, and Native American populations harder hit by the pandemic, expect racial fault lines to play a significant part, too.
The darkest hour
The darkest hour, they say, is often right before the dawn.
With Thanksgiving and Christmas holidays ensuring an increase in social gatherings, COVID-19 is proving that to be true this year, in the U.S. Robert Redfield, the CDC's head, has warned winter will be "the most difficult in the public health history of this nation."
According to Pew Research Center, only 60 percent of Americans say they plan to get a COVID-19 vaccine. 69 percent of Democratic voters are likely to, compared to 50 percent of Republicans. One in every five Americans say they don't plan to join Linsday, and a world after coronavirus, at all.
"I feel like healing is coming," Lindsay told the media, after her historic vaccination. "I hope this marks the beginning of the end of a very painful time in our history."