Rock your Residency with our Residency Bundle
Equip yourself with Intern Bootcamp, Case X and the Intern Guide and show up prepared on Day 1.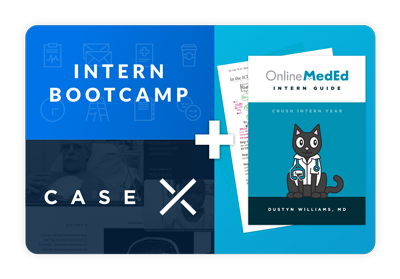 Intern Bootcamp
Communication skills
Handling interpersonal conflict
Time management
EMR tips
Self care
Case X
Real life cases
100 cases ranging in key specialties
Mitigate skills decline
Intern Guide Book
Leadership tips
Notes to be a better doctor
Pocket-sized for your white coat
Be prepared on Day 1
Perfect Practice Makes Perfect
Our Residency Bundle prepares learners in their final year of clinical education (4th year medical student, 2nd year PA student) for their transition to residency or for newly graduated students looking to get ahead during their training or their first clinical position. See what people say about Intern Bootcamp, Case X and our Intern Guide.
Intern Bootcamp for Rising Interns
Orientation is not onboarding! Intern Bootcamp teaches efficient strategies for time management, effective documentation, and other practices to enhance patient safety and prepare residents for lifelong success. From dealing with hospital hierarchy to getting along with team members, Intern Bootcamp has what learners need to thrive in their first year of residency. Intern Bootcamp will help you start your residency prepared.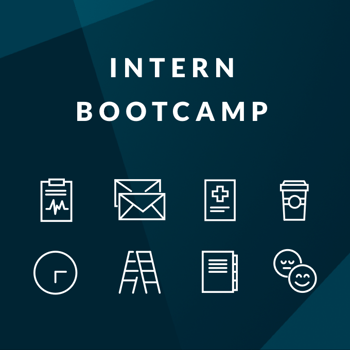 Case X
Real patients with real health issues rarely present as described in a textbook. For aspiring clinicians, acquiring experiential knowledge is critical to moving into successful practice. Enter Case X from OnlineMedEd. Case X is a case-based experience that offers authentic learning in a safe environment. These are real clinical cases, so learners consider what could be and what should be before finding out what actually happened in real life because real life is not multiple choice.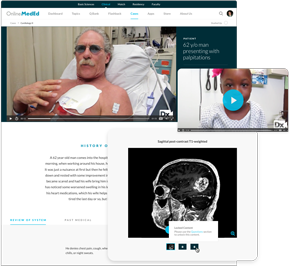 The Intern Guide
It turns out each years' intern class faces similar challenges. Most interns use their intern year to figure them out. But wouldn't it be better if someone figured it out, then wrote the answers down for the next generation? The Intern Guide is just that. Learners can adopt patterns of advanced residents, before residency. It's wisdom in your white coat pocket on the go.