In a powerful personal essay for STAT, Jennifer Adaeze Okwerekwu recalled the time she tried to speak up against discriminatory behavior during her medical education.
It happened during her first clinical rotation, when an elderly Haitian man mistook his appointment time, and was made to wait.
The attending physician then told Okwerekwu, now a second-year resident in psychiatry and STAT columnist, she would be conducting her first ever patient interview, on 'Amadou Diallo.'
Diallo was a 23-year-old Guinean immigrant shot and killed by four NYPD officers in February 1999, in an enduring case of police brutality against Black Americans.
"That's not his name," I said, instinctively but respectfully," Okwerekwu wrote, in April 2016.
"I was pointed in the direction of the patient and clinic, and proceeded as usual. A few weeks later when I received my clinical evaluations, I perceived some of the feedback as unkind.
"I couldn't tell if the comments actually reflected my performance or if I, too, was being punished for speaking out, or maybe even for being Black. It was terrifying not knowing the difference."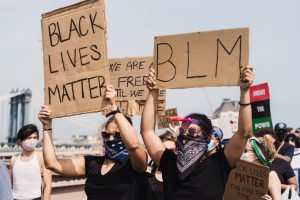 Okwerekwu's experience provides a snapshot of the continuing presence of racism in medical education at a time when the United States is grappling with racial injustice in wider society.
Sparked by the violent recent death of George Floyd at the hands of four Minneapolis police officers, and the ensuing Black Lives Matter demonstrations, now thought to be the largest in American history, racial introspection has become an active part of American life.
The medical education field has been no different, with a multitude of recent studies showing the minority experience of med school to be a far more difficult one than that of their white classmates and future colleagues.
History, and obstacles
From the prohibitive costs of a medical education, to lower acceptance rates prompted by rigid testing methods, to common mistreatment and microaggressions that extend into their professional lives, the gauntlet is a long one, especially for Black and Latino students.
"Structural racism is the result of centuries of discrimination against people of color in the United States," Dr. Catherine Reinis Lucey and Dr. Aaron Saguil, authors of a recent study into the consequences of structural racism on MCAT scores and medical school admissions, wrote.
"Its roots are deep and its consequences far-reaching. Medical education and the profession of medicine are as affected by this stain as other social systems are."
With early Black doctors having to study abroad due to being banned in the United States, Dr David Jones Peck, in 1847, was the first Black physician to graduate from an American medical school.
Between 1865 and 1910, up to 14 Black medical schools sprung up, but were cut back to two—Howard Medical College in Washington D.C. and Meharry Medical College in Nashville-—in the hugely consequential Flexner Report.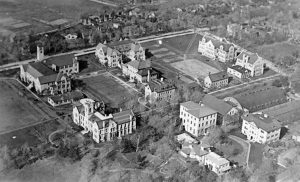 In 1918, Black students were banned from the Queen's University Medical School in Ontario, and did not return for 47 years. Later forgotten, the rule stood for a century, and was only repealed two years ago. Queen's University has officially apologized.
In California, current shortages of practicing Latino physicians are a result of policy decisions in the 1980s and 1990s that decreased the amount of residency slots, for a predicted surplus of doctors that never came.
"We're living now in the aftermath of that disastrous decision," Dr. David Hayes-Bautista, director for the Center of the Study of Latino Health and Culture at the University of California, Los Angeles, told the San Antonio Express-News.
Racial discrimination hasn't been just an issue at American med schools, either.
The British Medical Association has criticized its nation's med schools for an inadequate response to racism that "had left many … medical schools afraid to speak out," while at the University of Otago in New Zealand, a Māori medical student described racism as "a big problem" that was faced by all Māori who studied health sciences.
Native New Zealanders make up just 3.4 percent of all doctors in the Pacific nation, despite being 16.5 percent of its population.
Last year, the New York Times reported that the high cost of medical education—with up to $200,000 required to complete four years of medical school—was often the first hurdle for people of color in the U.S.
Structural racism is the result of centuries of discrimination against people of color in the United States. Its roots are deep and its consequences far-reaching. Medical education and the profession of medicine are as affected by this stain as other social systems are.
In 2018, an Association of American Medical Colleges (AAMC) study found that, for the last three decades, more than three-quarters of American med students came from the nation's most affluent households.
A 2015 study showed that Black medical school applicants have a far lower acceptance rate (34 per cent) than white students (44). Latino and Asian students had a 42 percent acceptance rate.
Lucey and Saguil wrote that the continuing lack of diversity in med school is definitely impacted by the testing required to enter it.
"The medical professional can successfully educate the diverse physician workforce that our communities need and prepare all physicians to be the citizens our democracy needs if we collectively commit to understanding and counteracting the impact of structural racism on medical student selection and education and on the provision of healthcare," Lucey and Saguil wrote.
"Embracing new ideas about what MCAT scores are desirable may be more acceptable if the purpose behind this necessary mindset change is to mitigate the effects of society's structural racism."
Just 7.8 percent of med school applicants are Black, along with 6.1 percent Latino. Those numbers decrease to 5.7 percent and 4.6 percent, of all medical graduates.
Along with other backgrounds, white graduates make up 58.8 of new doctors, along with 19.8 percent Asian.
Ongoing mistreatment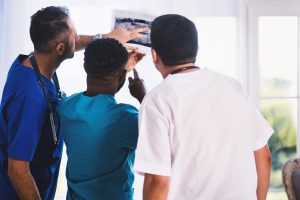 While at med school, person-to-person discrimination is relatively common. Conducted between 2016 and 2017, a JAMA Internal Medicine study of 27,000 med students found that 38 percent of minority students reported mistreatment, compared to 24 percent of white students.
"We bring Black med students to these institutions, and they fill quotas, and they make institutions look good," LaShyra Nolen, a first-year med student at Harvard Medical School, told NPR in mid-June. "But we're not protecting them. We need to protect them."
Following graduation, things change little for minority doctors with a 2009 study showing that up to 40 percent of all minority physicians contemplated leaving their the medical profession due discrimination on the job.
It's about them, the patient. It's about meeting the patient where they are. Then you'll be able to treat them, and help them get better.
Change is possible, however. Along with admissions reform, an extensive study, published last year, suggested more curriculum emphasis on minority health or health equity, could help lead to more doctors in areas of need for minority communities, and an improved feedback loop for generations to come.
"We suggest that," the study's authors wrote," within medical education, the types of courses that medical schools require and the information that they prioritize for training new physicians can critically shape students' interest in practicing in underserved areas."
With the benefits of a more diverse medical profession clear, the incentives of rooting out racial injustice in medical education must be too.
"[The medical professional] has to be able to check their implicit bias – it's not about you," Carl Black, a PA-in-training and podcast host in Philadelphia, told me, recently.
"It's about them, the patient. It's about meeting the patient where they are. Then you'll be able to treat them, and help them get better."