Six years ago, Alexandra Kamieniecki's Olympic dreams were in tatters.
A former Polish figure skating national champion, 'Ola' had lost the majority of her training season due to a bone spur on the ankle of her landing foot, as well as battling an eating disorder. For the 2014 Olympics in Sochi, Russia, her spot went elsewhere.
She needed a new career—a new passion—but after an entire lifetime dedicated to skating, being trained by some of its best minds, the Canadian-born, United States-raised 18-year-old had no idea where to look.
I can really see that my [skating] training before has really helped me study medicine properly.
After a trip to stay with her grandparents near Gdańsk, Poland, and a chance encounter at the university her mother once studied at, the former figure skater found medicine.
Now 24, Kamieniecki is just a year short of completing her medical studies at the Medical University of Gdańsk, and is studying towards her United States Medical Licensing Examination (USMLE) Step 2.
While the jump from ice skating to medicine might sound like a tricky one to land, Kamieniecki, who plans to head into pediatrics, found plenty of transferable skills from her old life.
"With the [USMLE] Step 1 exam, you have to study from the question bank," she says. "Sometimes you get 50 percent or something [when preparing], and it really hits your confidence.
"But with skating, it takes so much diligence. Every day I would train four to six hours, and then after that, there is much more to do. It was an everyday struggle.
"No matter if your body was hurting or you didn't feel like doing it that day, you still do it. With the jumps and everything else in this sport, you repeat the same thing thousands of times. The USMLE exam is hours and hours long, and you have to practice to be able to focus that long.
"I just kind of linked the way I study [to the way I trained, as a skater]. People asked me how I could study that long, and I just related it to training. Instead of training my body to land these jumps, I was training my brain to be able to answer these questions.
"I had the same approach, and I think that helps me the most. [It's] the repetitiveness. In skating, you have muscle memory. Studying, I like to take a lot of handwritten notes and that kind of creates a memory, too.
"I can really see that my [skating] training before has really helped me study medicine properly."
From figure skating to medicine
Born in Calgary to a Canadian father and a Polish mother, Kamieniecki moved to Phoenix, Arizona when she was two.
With the radical change in temperature between the two cities, the Kamieniecki family was drawn to local ice rinks where the youngest started skating at four.
She showed real potential, prompting a further move to Colorado when she was 12, to be near the U.S. Olympic Training Site at Colorado Springs. Legendary American ice skating coach Tom Zakrajsek began to train her, before Alexander Zaitsev, a two-time Olympic champion from Russia, also became involved.
Because of her mother, Kamieniecki decided to represent Poland internationally, becoming the Polish junior champion in 2011. Later that year, she competed at the 2011 Junior World Championships in Gangneung, South Korea, where she finished 27th.
The following year, Kamieniecki was the overall Polish women's champion. Training alongside Canadian Patrick Chan, who'd claim silver in the men's competition in Sochi, in Michigan, Kamieniecki's Olympic dreams looked entirely realistic.
I don't know what I would do without OnlineMedEd. It's really amazing. I can't wait to get the Intern Guide, next year.
Though she'd struggled with a herniated disc before, issues with her ankle, and an eating disorder, a common issue in women's figure skating, proved too much for her.
"I had a lot of injuries and it was a downhill, unhealthy spiral," she says.
Her mother sent her heartbroken daughter to stay with her parents in Poland. While at a loose end, Kamieniecki checked out courses at the Medical University of Gdańsk, where her mom once studied microbiology, and found a year-long pre-med course, in English, that appealed.
She passed it, and then passed the exam to reach medical school, starting the following year. The last five have seen her split time between Gdańsk and Colorado Springs, with OnlineMedEd playing a big role in the journey.
"I don't know what I would do without OnlineMedEd," she says. "It's really amazing. I can't wait to get the Intern Guide, next year."
While Kamieniecki hopes to practice in the U.S. eventually, the former skater will likely take a gap year after graduating from the Medical University of Gdańsk, conducting research, becoming a medical scribe or volunteering at a hospital.
A U.S. clinical rotation has been delayed three times due to the COVID-19 pandemic, while her Step 2 exam has also been postponed. For international students, the exam must be passed before applying for residencies, stateside.
Inspiring fellow former athletes
Despite the hold-ups, Kamieniecki—who names Dr. Mindy Siegel, an orthopedic surgeon in Colorado Springs, as a mentor—isn't frustrated. Her old career taught her the importance of patience and the unavoidable nature of frustration.
After watching her own sporting dream disappear, Kamieniecki hopes that in sharing her story, she is able to inspire more athletes to think more about their lives, after sport.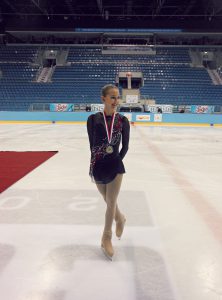 "I felt like I missed out [on the Olympics], but now I don't feel like I missed out because I'm happy to be all done [with skating]," she says.
"This is something that lasts forever – knowledge. In sport, you can't do it forever. I know there are tons of athletes who now, because of coronavirus, are not doing much. All sports have stopped.
"I see my old friends struggling, because, outside sport, they don't have anything else. For me, [with] the pandemic, I was able to study more, nothing changed.
"I can see that I will be about to contribute everything that I'm learning now to help other athletes that just are lost. There's no good transition to stop sports."
I felt like I missed out [on the Olympics], but now I don't feel like I missed out because I'm happy to be all done [with skating].
Though the pressure and excitement that comes with competing athletically is now in the past for Kamieniecki, she says a few of the old rituals remain.
"I kind of made it my own little mini Olympics, the licensing exam [Step 1]," she says.
"I don't know how other people deal with stress, but I always have to listen to music. It's like I was going to do my figure skating programme. I'd always listen to music before a competition, and I do the same before my exams, now.
"I have to slap my legs, and move around, before an exam. Little jumps up and down, that sort of thing.
"But instead of my skating performance, I just sat down and did my exam."