For Chris McNeil, there has always been the sound of a low rumbling on the horizon.
Growing up in Lawton, Oklahoma, it was artillery fire that came from the massive United States Army proving ground at Fort Sill, where his father served. "It was like a continuing thunderstorm," McNeil, 30, says.
As he got older, McNeil—now a fourth-year medical student at the Oklahoma State University (OSU) Center for Health Sciences in Tulsa—began to notice the constant rumbling that no young Black man in America can ever ignore.
[It's like] rebuilding Black Wall Street, but in a metaphorical sense. [It's] that sense of endearment and empowerment, and it's not just for Black people. And we need it as a country right now.
Following the brutal police murder of George Floyd in Minneapolis this May, the whole world heard it, too. Pain, anguish, and global demonstrations against racial injustice followed. A new generation found their voice for equality, but quickly realized the scale of the challenge at hand.
From ongoing discrimination at med school that feeds a healthcare system woefully short of a minority presence, racism remains a malignant presence in American medicine, too.
McNeil studies mere miles away from the site of the horrifying 1921 race massacre in Tulsa that claimed up to 300 Black lives, and destroyed 'Black Wall Street'. He knows the lonely road many Black med students have to walk, because he has walked it himself.
As the recipient of the OnlineMedEd Scholarship for Future Black Physicians, that long-running barrage still rings in McNeil's ears – but he knows exactly what he needs to do to help silence it, within medicine.
"I'm so excited to be in a position where I'm not only becoming a physician, but I'm going to help empower a community," he says.
From Bavaria to Oklahoma
McNeil was born in Würzburg, Germany in 1989, due his father Leonard—a physician's assistant in the U.S. Army—being posted to Europe. He grew up in the Bavarian spa town of Bad Kissingen, before the family relocated to Lawton in 1998.
Like his great-grandfather Moses, Leonard hailed from South Carolina. Moses was the first free man in the McNeil family.
"The stories I heard about [Moses] were legendary, [he was] almost like Paul Bunyan," Chris McNeil, who named his own three-year-old son Moses, says.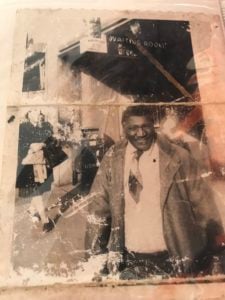 "He was taking railroad spikes out of the ground with his bare hands, he was an awesome guy, and an amazing motivator."
Leonard met his Delaware-raised wife Jacqueline in Virginia, in the mid-1980s. Before Chris, they had a daughter, Jessica, who is now a nurse practitioner in Dallas.
From his mom, who has long worked in education, McNeil says he received the life-long urge to be prepared for any outcome. As a kid, he always had too many things in his backpack.
From his father—"my hero"—McNeil got the trademark family passion and drive, as well as his first curiosity about a career in medicine.
"A lot of my medical upbringing came from seeing him in a white coat, and being able to see how he'd interact with soldiers," he says.
"He bought hope. When people saw that white coat, it meant something very, very symbolic to them, like 'okay, I'm going to find relief. Something good is going to happen."
Outside his father, McNeil saw few other Black people in the medical field. Back then—and now—most jobs in Lawton were either through the military, or at the town's massive Goodyear Tire plant (after leaving the Army as a Major, McNeil's father now serves as the plant's Chief Medical Officer).
Medicine was more of a bet, or a challenge [for young Black kids]. I knew it was really hard, [that] not a lot of people do it, very few people I knew were in it, but it was something I wanted to do.
"Medicine was more of a bet, or a challenge [for young Black kids]," he says. "I knew it was really hard, [that] not a lot of people do it, very few people I knew were in it, but it was something I wanted to do."
A talented athlete, McNeil received a wrestling scholarship to OSU in 2008, studying biology. Considered one of the premier college wrestling programmes in America, OSU's head coach was John Smith, a two-time Olympic champion. While never one of the Cowboys' wrestling stars, McNeil quickly impressed Smith.
"[McNeil] shows everybody that there's no excuses," Smith said of McNeil, in 2011. "He's getting one of the toughest degrees at Oklahoma State.
"On top of that, he's making every practice and making great grades. He works at what he earns. He's probably one of the greatest influences on our young people, and the program."
Along with his cauliflower ears, McNeil still points to wrestling as fostering his desire to win, and continually improve. A business degree, with a major in entrepreneurship, would follow his pre-med studies, as would a revelatory college trip to South Africa.
The drive to become a physician returned in 2016, when he began a bridge programme to the OSU Center for Health Sciences. The following year, he started his first year at med school, studying osteopathic medicine.
His wife Jessica gave birth to Moses during McNeil's first year, while daughter Madison came along just before he sat his COMLEX Level I test.
With the OSU Center for Health Sciences located in a largely Black West Tulsa neighborhood, McNeil—a dedicated OnlineMedEd user—recalls the surreal sensation of being one of only a handful of Black students in his classes.
"It was crazy," he says. "I was one of the only Black medical students inside, but on the walk to get into the medical school, I was in familiar territory.
"I was in the majority for a brief moment in time. For some people it was scary, we had to have a lot of security, but it was a really interesting dynamic. It was like being in South Africa again, and going from a majority to a minority by crossing [through] a door frame."
Having the conversation
Racism has long coursed through the veins of American medical education. From its prohibitive costs, lower acceptance rates due to rigid testing techniques, and ongoing mistreatment and micro-aggressions, the challenges today loom as large as they always have.
Despite Black Americans making up nearly 13 percent of the overall population, only five percent of physicians are African-American. For aspiring Black male physicians, the numbers are even worse.
It was crazy. I was one of the only Black medical students inside, but on the walk to get into the medical school, I was in familiar territory.
According to Forbes, only 2.9 percent of all enrolled medical students in 2019 were Black men. Shockingly, that figure has decreased from 3.1 percent in 1978 (total enrollment for Black women in medical school has increased from 2.2 to 4.4 percent in the last 40 years).
"I think the primary problem for Black males in pursuing medicine or any professional career is racism and bias, but it does not take the form we traditionally think of such as closed doors or signs that say 'Blacks not allowed," Dr. Marc Nivet, of UT Southwestern Medical Center, says.
For Black kids in Oklahoma, McNeil compares the challenge of going to med school as akin to a long, arduous "pilgrimage to Mecca."
"There's two major barriers in terms of making more Black doctors in Oklahoma," he says. "The first one is pipeline. Oklahoma schools are not a priority for a lot of administration and legislative actions.
"You have schools that are dilapidated, and don't have a ton of [advanced placement] classes, you have teachers that are underpaid, classes that are over-filled, and that doesn't make for an enriching learning environment.
"The second part is there is no affirmative action in Oklahoma. In order for you to make more physicians … what scaffolding do you have to compete on? Will power isn't going to cut it."
In the week following Floyd's murder, McNeil got a call from a classmate, telling him OSU had yet to put out a statement denouncing racism and violence.
While the statement would soon be out, and the school has shown huge increases in undergraduates, graduates, and faculty of color since 2010, OSU was yet to open a Department of Diversity, Equity and Inclusion as of June.
In order to make the bridge to more Black doctors, it has to start with us.
Unified by McNeil, students banded together, and went to OSU's President with a proposal. Conversations started, and, by late September, the new department was officially announced.
"In order to make the bridge to more Black doctors, it has to start with us," he says.
Conversation about the role of race in med school is starting to change too, the 30-year-old says, with more of his fellow white students reaching this year to ask about the challenges that he has faced.
A confident, gregarious soul, McNeil is happy to engage, but wants folks to know the 'emotional scarring' many students of color carry makes these conversations hard for many.
"I think it's in the same way as when we're in the hospital and a patient dies," McNeil says.
"Now we have to go to the next patient, but there's no sense of decompression. There's no 'let's talk about his life, let's have a moment of silence, we didn't know this guy, what's the aftermath that happens.'
"All those emotional scars that build up over time. That same thing happens to students, and the students who want to become physicians. It's not that George Floyd was the superhero, but [what happened] allowed the discussion to happen – and that is therapeutic.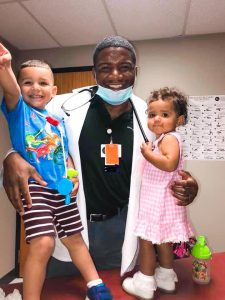 "Yes, Black Lives Matter, but every Black person is unique in their own right," he continues.
"Not everyone is going to have an optimistic discussion about what needs to be done. Some people are very much stuck in what they need to do for themselves or their community.
"Having the opportunity to talk about this stuff by no means makes me an expert on the Black community. It just makes me excited to be a part of the movement forward, and that's very important for people to understand."
'Raise your words, not voice'
"Raise your words, not voice," legendary Persian poet Rumi once wrote. "It is rain that grows flowers, not thunder."
From an army brat growing up to the sound of booming cannons, to a rising young Black leader in medicine, Rumi's wisdom fits McNeil's approach to life, almost perfectly.
Driven by family, medicine, and the potential to inspire positive change as a physician, McNeil knows the task ahead of him isn't an easy one. He also knows what incredible rewards exist if the work is put in.
"[It's like] rebuilding Black Wall Street, but in a metaphorical sense," he says.
"[It's] that sense of endearment and empowerment, and it's not just for Black people. And we need it as a country right now."