On May 25 1973, a Saturn IB rocket roared into the sky above Florida's legendary Cape Canaveral.
Alongside two other NASA astronauts, Chicago's Joseph Kerwin was perched in the Saturn IB's Command Module. A crew member on the Skylab 2 mission, Dr. Kerwin was about to become the first American physician to go to space.
Though many have gone into orbit since, doctors were almost non-existent in the opening decades of manned spaceflight with most early space explorers either former fighter pilots or engineers.
Russian cosmonaut Dr. Boris Yegorov was the first space doctor, aboard Voskhod 1 in October 1964, but it wasn't until Kerwin's flight nine years later that a physician was given the serious chance to study space medicine.
Born in Chicago in 1932, Kerwin graduated from Northwestern University Medical School in 1957 before doing his residency at the District of Columbia General Hospital in Washington, D.C.
Exploration medicine is understanding and dealing with normal humans in abnormal environments.
Though Kerwin initially planned to focus on pediatrics, military service with the U.S. Navy beckoned. The physician became a naval flight surgeon in 1958 and received his flight surgeon's wings four years later.
Racking up thousands of hours as a pilot, the Illinoisan was selected as an astronaut in 1965 alongside geologist Harrison Schmitt, who'd later walk on the moon and become a U.S. Senator.
Though he'd have to wait eight years to get into space, Kerwin was at Mission Control in Houston during the legendary Apollo 13 mission in 1970, serving as one of the all-important capsule communicators (CAPCOMs).
In an era when NASA astronauts were glamorized as cocky, fast-living pilots, Kerwin was described as a more steady-minded intellectual.
"While Captain [Pete] Conrad [Kerwin's commander on Skylab 2] is taking tape cassettes of country and western music into space to help fill his off duty time, Dr. Kerwin is taking Shostakovich," the New York Times wrote, in 1973.
"On Earth, when Captain Conrad is hunting from horseback, Dr. Kerwin is likely to be at home playing poker or bridge; or more likely, smoking a pipe and listening to classical music or reading. He is, indeed, perhaps the most widely read astronaut."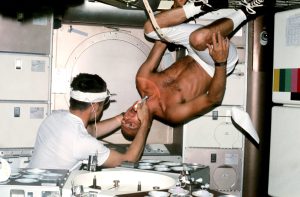 Skylab 2 was the first of three NASA missions to the United States' first space station in 1973. Alongside Pete Conrad (the third person to walk on the moon) and Paul Weitz, Kerwin took part in the first four-week visit.
Though also working on various engineering and astronomical experiments, and taking part in a spacewalk, the Chicago-raised physician was given a mandate to look at the effects of spaceflight on the human body.
Space, after all, has a pretty dramatic effect on the human body with bone and muscle loss common amongst astronauts, along with decreased cardiac abilities.
For the first time, Skylab was equipped with an In-Flight Medical Support System (IFMSS), featuring an impressive range of medical equipment, and ensuring Kerwin had a good set of tools to work with.
"I had intravenous fluids, drugs, a minor surgery kit for suturing, hemostasis, and I had a fundamental lab capability," he later said, according to a U.S. Navy history from 2011.
"I could even do cardiopulmonary resuscitation if it were necessary."
Fortunately, it never came to that with a dislocated finger the most serious ailment any of the three astronauts picked up on Skylab.
Still, knowledge from the range of medical experiments the astronauts conducted on the three Skylab missions went on to form the foundation of NASA's space medicine approach for decades to come.
"It was a good mission, a beautiful medical data set," Kerwin told the NASA Johnson Space Centre Oral History Project, in 2000. "Still, I think, the best, most complete medical data set on nine people that exists for weightlessness."
Kerwin would go on to lead NASA's medical support program for the early Space Shuttle program, and was involved in the investigations into the Challenger disaster in 1986. Leaving NASA in 1987, the former astronaut would later manage a medical research company that helped build the crew healthcare system on the International Space Station.
These days, physicians are common in the astronaut corps. As recently as 2015, Dr. Kjell Lindgren served six months on the International Space Station, while NASA offers four-week aerospace medicine clerkships to American med students twice a year (the next deadline is June 1).
When humans finally blast off for Mars in the next few decades, it's virtually certain a physician will be a member of that first crew.
All that would have seemed remote the day Kerwin – now 88 and living in College Station, Texas – soared above Florida in 1973, but, after all, every field needs its pioneers.
"Exploration medicine is understanding and dealing with normal humans in abnormal environments, and space medicine deals with the most challenging environment that any frontier presents," he told the National Space Biomedical Research Institute, in 2011.
"Our job is to understand it — and ourselves more deeply — and to protect our explorers from its threats."