Welcome to the OME Gamechanger Series. The overarching goal of this series is to highlight an important aspect of medical education and how OME plans to make a difference. Each month, an academic expert and member of the OME team will share how OME is connected to the bigger picture through their eyes. In this installment of the Gamechanger Series, we will focus on Stephen DeMeo, DO, MEd, our Vice President of Medical Education, why he believes OME is a gamechanger in online medical education, and what inspires him about OME.
At OnlineMedEd, we believe improving patient care starts by transforming learning in and out of the classroom. We help faculty and institutions by providing medical teaching resources that enable easier teaching, reinforcement and learning of crucial foundations so faculty can build stronger medical professionals, institutions can expand their impact, and students can transform memorization into knowledge. The result is a more empathetic and prepared generation of healthcare professionals, which has the downstream impact of improving millions of lives through great patient care.
Tell us about yourself!
I practice as a Neonatologist in Raleigh, North Carolina, at a busy hospital system that delivers almost 8,000 babies a year (that's about a kindergarten class a day!). Neonatology is a unique field amongst the critical care specialties, not only because we sometimes take care of patients who weigh no more than 1lb, but also because along with the typical aspects of any ICU – critical illness, resuscitation, surgical care, invasive procedures – we also have continuity of care with our families that isn't seen in other critical care units (some of our tiniest babies are with us in the NICU for 3-4 months).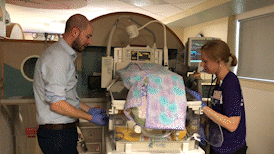 One of the best parts of my job is getting to develop those relationships over time with our families. NICUs also tend to have a "whole patient" approach that considers the medical needs of the baby, but also their global neurodevelopment, family support, and spiritual emotional support of the caregivers. As an Osteopathic Physician (DO), this aligns with my medical training, which teaches a patient centered approach that not only considers symptoms or signs of disease, but rather considers the whole patient- physical, emotional and spiritual, to help achieve overall health and wellness.
As the Vice President of Medical Education at OnlineMedEd, I get to be a part of a dynamic team working to push medical education forward. Specifically, I work with schools of medicine and other institutions around the country to help integrate OnlineMedEd into their curricula. I lead our Institutional Success Team, a group of incredible medical educators that support our partners in a peer-to-peer model. I feel so lucky to have the opportunity to work with such talented (and fun!) people. I also get to work with Dr. Williams and the content team on new curriculum development, as well as developing new and innovative educational products.
Can you tell us about your path to becoming a clinician/educator?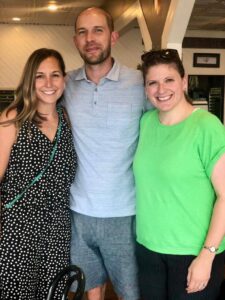 I became interested in medical education during my pediatric residency at AI duPont Hospital for Children, especially during my chief resident year when my co-chief residents (shout out to Dr. Jess Tomaszweski and Dr. Jillian Savage!) and I were responsible for shaping much of the resident education program.
I was privileged to be a resident at a program that not only provided a fantastic training environment, but really made sure the well-being of the residents was front and center.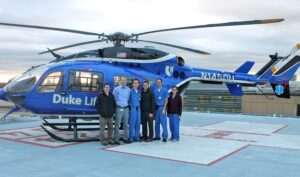 During my Neonatology fellowship, at Duke University, I was fortunate to have a program director who supported me fully in pursuing a non-traditional research path in medical education and also allowed me to pursue a Master's degree during fellowship.
After fellowship I joined WakeMed as an attending Neonatologist – and coincidentally the hospital system was in the process of developing a clinical training affiliation with a new Osteopathic medical school in North Carolina – Campbell University School of Osteopathic Medicine.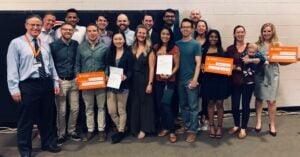 Sometimes your career takes certain turns because of luck, and the fact that the Neonatology group was hiring the same year as Campbell's inaugural class was getting ready to start rotations was one of those times. I've served in a variety of roles with Campbell and WakeMed – Pediatric Clerkship Director, Campus Site Director for Student Medical Education, and later, Regional Assistant Dean.
Through it all, the most fulfilling experiences are still the opportunities where I get to mentor and develop students one-on-one during their clinical years. Seeing 3rd year students discover their passion and make a decision on future specialty is such an awesome time in the medical education journey. Many of my former students are now in practice, have become chief residents themselves, or are pursuing fellowships at fantastic medical centers around the country.
Why did you join OnlineMedEd?
The chance to work with OnlineMedEd was another fortuitous moment. I've always been interested in how educational technology can make medical education better, and I was excited to make an impact that went beyond just the walls of my own institution. Now, I get to meet with medical educators from all over the world and work together to solve the problems we're all facing.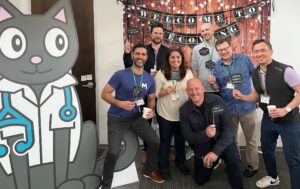 What impact Can OnlineMedEd have on medical learners?
Medical education is at a bit of a crossroads, with the explosion of medical knowledge, instability of clinical rotations, and the transitions of licensing exams to pass/fail. Learners are bombarded with mixed messages about study strategies and time management, and they struggle with the dissonance that comes from learning from multiple sources. Institutions are struggling to retain both pre-clinical faculty and clinical preceptors, and many don't feel like that have the tools to incorporate online learning tools into their teaching. My team and I work every day to support faculty and keep the learner at the center of everything we do – that includes not only creating high quality content, but also working with institutions to deliver that content in an integrated manner throughout the 4 years.
My personal mission as an educator is to help learners succeed in both their classwork and exams and ultimately become well-rounded physicians, but also make sure we take care of them as people along the way. It's great working with an organization that shares this mission.
If you share this mission as well, I'd love to connect. Click here to schedule time for a chat.