Last month, comedian Hasan Minhaj told Jimmy Fallon and Tonight Show fans about a recent interaction with an old friend who had become a physician.
The host of Patriot Act with Hasan Minhaj required varicocele repair surgery to ensure he and his wife could conceive naturally. His friend would be performing it. Minhaj was worried his old pal was up to the challenge.
"He's not even an MD," Minhaj says. "Jimmy, he's a DO. This guy can't even afford all the good letters."
Fallon looked miffed but Minhaj continued the gag, explaining his understanding of the difference between MDs and DOs. Outside the understanding of osteopathic manipulative medicine (OMM), the two physician trajectories are virtually the same, sharing boards, residencies, and fellowships.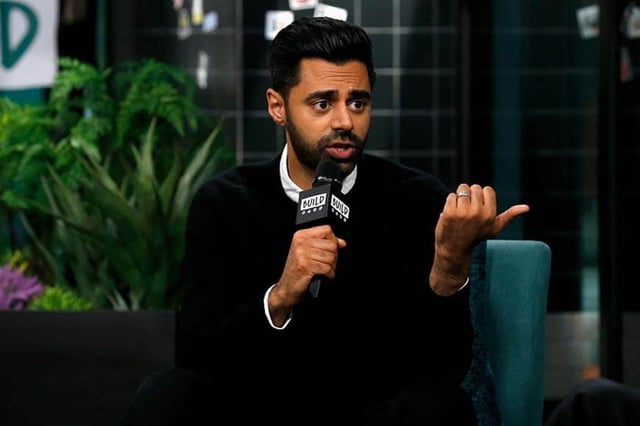 "There's a war going on in the medical community, guys; between MDs and DOs," Minhaj says.
"They're basically the same but totally not. Like an MD is Coca Cola and a DO is RC Cola. You understand? It's like an off-brand doctor. Like [comedian] John Oliver is an MD and I'm a DO. We're the same but we're really not.""
Minhaj's hand indicated that Coke sat around shoulder height. RC Cola was positioned around the waist.
For some in the osteopathic and wider medical communities, the joke has caused outrage. For them, it reinforces misconceptions of the professional capabilities of a DO as well as disrespecting the education that got them there.
"In society right now, the last thing we need is people turning up at an emergency room and turning away because they've got an osteopathic doctor," Jordan Alter, a MD resident in Boston, says.
Rather than a damning indictment, Minhaj's misrepresentation of DOs has been met with a shrug or shake of the head by most others.
Misconceptions about their practice have lingered decades longer than the true war: the long fight to gain DOs medical licensure in all 50 states that came in 1973.
They're basically the same but totally not. Like an MD is Coca Cola and a DO is RC Cola.
Even today, statistics from the American Osteopathic Association show that one in five Americans have never heard of an osteopathic physician; the last lick of resistance to osteopathy's establishment by Dr. Andrew Taylor Still more than a century ago.
Many in the DO community have accepted the presence of misconception, pointing to further collaboration between MDs and DOs in medical education as a new generation understands it better.
When push comes to shove, Dr. Jeremy Polman believes patients don't care what two letters sit behind their physician's name. They need help.
A physician's job is to provide it. By using manual force or pressure, OnlineMedEd's lead OMM educator—also a DO-educated internal medicine physician—says a DO has an expanded toolbox to find out what might be wrong.
"My elevator pitch about being a DO is that it's an MD with an extra skill set," he says. "My patients have never asked for an MD instead of a DO."
Last October, in The Atlantic, writer Eleanor Cummins traced the initial divide between allopathic and osteopathic physicians to OMM's founding by Still in the late 19th century.
She wrote that the lasting resentment from MDs came from the fact that osteopathy was created in opposition to mainstream medicine of the day.
"But today," Cummins wrote, "osteopathic and allopathic doctors are difficult to distinguish, and the curricula at osteopathic and allopathic schools have largely synchronized because DOs and MDs must ultimately pass similar licensing exams in order to practice."
After being in development for several years, MD and DO students were last year placed in mixed residency programs through "a single, unified competency-based system, which evaluates all residents on six domains, including medical knowledge and systems-based practice."
My elevator pitch about being a DO is that it's an MD with an extra skill set. My patients have never asked for an MD instead of a DO.
With program directors appreciative of the different skills he brought to a hospital or clinic, Polman feels that being a DO student gave him a more favorable chance of gaining a residency spot.
"We have a skill set that others don't," he says. "If there's a muscular or skeletal problem, we are better placed to look at a patient.
"If a patient comes in with shoulder, back, or knee pain, other residents will come to me for help. That's an extra skill that is recognized in the medical community."
Osteopathic physicians make up around 11% of all practicing physicians in the United States, a figure expected to double by 2030 thanks to rising enrollments in osteopathic medical schools.
In 2019, figures from the American Association of Colleges of Osteopathic Medicine (AACOM) showed one in four American medical students was learning OMM as part of their studies. Numbers are thought to be similar today.
Both President Donald J. Trump and Joseph R. Biden had a DO as a personal physician while in the White House. Dr. J.D. Polk—NASA's Chief Health and Medical Officer—was trained as an osteopathic physician.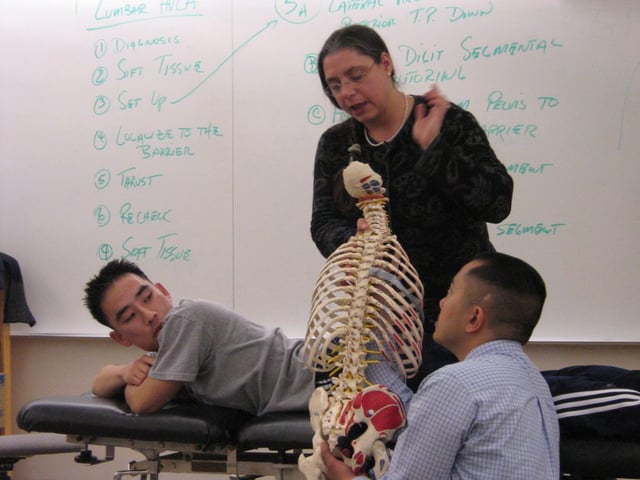 The current generation of physicians don't have the same hold-ups that previous ones did, Polman says. "There used to be this divide between MDs and DOs, but that's now disappearing in the medical community," he says.
"How old you are plays a significant role. Med students today know that MDs and DO are very similar. We do the same boards and go for the same residencies and fellowships.
"The only difference is we do a 250-hour OMM course where we understand the muscular and skeletal system a little better. In terms of being a doctor, the career paths are pretty much the same."
Since his appearance on The Late Show With Jimmy Fallon, Minhaj hasn't mentioned anything about his DO comments.
Having established his career using humor to build context around complex issues like drug pricing, the opioid crisis, and the collapse of the news industry, his misunderstanding—and resulting miscommunication—seem out of character.
Either through his peer group or from the outrage his comments caused, there's a decent chance his view has already been corrected.
Watching a clip of his interview with Fallon, Minhaj's joke seems to fall flat with the audience. He concludes the story by sharing his surgery was successful and that he and his wife had since had a child. "Shout out to the DOs," Fallon added.
That's the critical part of the clip to Polman. When he first told his family he was considering studying to become an osteopathic physician, he faced views similar to Minhaj.
"They thought it was completely different to becoming a doctor," he says. "But then someone will say, 'my sister has been seeing a doctor for years and years, and it turns out he's a DO," or "so-and-so's son is studying to be a DO.
"It's just not something people think too much about. We've just got to do our job."