Though study materials, highlighter pens, and empty coffee cups cover the table, medical students around the world are rarely afforded the same study distraction the balcony of the 'Justiça e Paz' library, in Coimbra, Portugal provides.
Looking south from the library, the Mondego River snakes through the city. A few miles away, the Rainha Santa Isabel Bridge can be seen arching over it. On either riverbank, things look green and healthy.
For many months in 2019, Gil Cunha and João Soares would toss clinical situations at each other, as they prepared for the first new medical licensure exam in four decades of Portuguese medical education.
A four-hour multiple choice exam taken by more than 5000 med students over the last two years, the Prova Nacional de Acesso (or National Proof of Access) exam represents a paradigm shift in how Portugal's future doctors enter residency – and later practice.
This is a big change – and for big changes to happen, a lot of work needs to be done.
Unlike the notorious 'Harrison's' exam—which took its name from a legendary cardiologist from Alabama, and his iconic line of internal medicine textbooks—the USMLE-influenced PNA is seen to incentivize strong clinical problem solving above the raw ability to memorize facts.
While issues persist with the effective ranking registry it maintains for residency program directors, the benefits of further recognizing clinical understanding is already reshuffling the final-year deck at Portuguese med schools.
With the nation in the depths of one of the worst stretches any has had to deal with during the COVID-19 pandemic, the switch to the PNA takes on an even sharper relief.
"This is a big change – and for big changes to happen, a lot of work needs to be done," Soares, who achieved the second-highest score in the first-ever PNA, says.
The shift from Harrison's
After its introduction in 1979, the Harrison's exam was greeted with dread by each final year grouping of Portuguese med students for nearly 40 years.
The two-and-a-half hour, 100-question assessment was based entirely on Harrison's Principles of Internal Medicine, first published by Dr. Tinsley R. Harrison in 1950.
Updated twenty times since, regular recent contributors have included Dr. Anthony Fauci, head of the United States' National Institute of Allergy and Infectious Diseases (NIAID). Harrison himself died in 1978.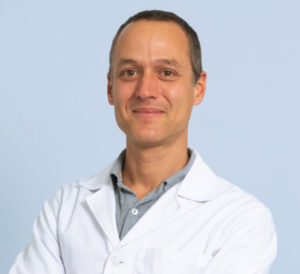 Mastery of the exam required students to read, and re-read the latest 'Harrison's' textbook to the point of exhaustion, while only concentrating on five aspects—gastroenterology, hematology, cardiology, pneumology and nephrology—of internal medicine.
Cunha can testify to the study agony it put students through. A neuro-radiologist for two decades before deciding to retrain as a cardiologist, the 45-year-old endured 'Harrison's' in 2001, at the University of Porto's Abel Salazar Biomedical Sciences Institute.
In 2019, Cunha received the fourth highest score on the PNA. Last year, he, Soares and Maria João Brito set up MedApprentice, a popular PNA-centered study website.
"They faced [Harrison's exam] with enormous sacrifices; [like] a year in which you have to really suffer to get to your desired goal," Cunha says. "That is such a destructive mindset."
Though two previous efforts to reform the licensure exam had failed in the 2000s, a specially-appointed national committee created by Portugal's Ministry of Health submitted a draft proposal to introduce a new one in 2017.
Along with medical schools, Portugal's National Association of Medical Students (ANEM) was involved in the PNA's creation, which would see instructors travel to the U.S. and work with the National Board of Medical Examiners (NBME)—overseers of the USMLE series—to help shape it.
Topics from almost every aspect of medicine now fill the PNA. Though half remains focused on internal medicine, the rest of its breakdown includes 15 percent on surgery, 15 percent pediatrics, ten percent gynecology and obstetrics, and ten percent psychiatry.
Taking place on the same day, and time, in mid-November, it is held in just six cities; Lisbon, Porto, Coimbra, Covilha, Funchal and Ponta Delgada.
Despite relief that the Harrison's exam was getting the axe, students were uncertain about what the shift would mean for study in their final year.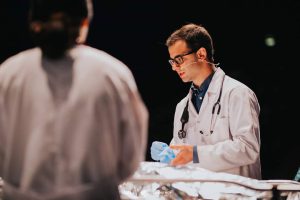 "Everyone was really scared, because it was such a radical change in the method used to evaluate students – it really took a long time [to replace]," Brito, 25, says. Like Cunha and Soares, Brito is a graduate of the Faculty of Medicine at the University of Coimbra.
"From what I could tell from my peers, everyone was hoping they weren't the first year to take it."
"When it was real, we felt, at first, surprised [like] 'how are we going to study for this new exam?," Soares, who is 25 and now undertaking a dermatology residency, says.
"For me personally, I had a good background because I had already taken USMLE Step 1. I felt like I already had the engines in place to study for this new type of exam."
Despite the overwhelming popular shift away from a textbook-dependent licensure exam, criticism of the PNA still exists.
With the exam the only criteria used to access the residency programs, a huge amount of pressure sits on students to get things right – or else. While this creates equality, it overlooks other skills and abilities across the med school experience that other nations, like the U.S, consider.
This may be tweaked, however. Within the next three years, there are suggestions that students' curriculum averages could count for up to 20 percent of their overall PNA grade. "[Currently] we sacrifice having a lot of criteria in favor of having equalness between every candidate," Soares says.
Providing a hand up
While many students used study methods that worked for the old Harrison's test, those who would do best in the new exam approached it in a completely new way.
OnlineMedEd was an important tool for Cunha and Soares, who studied for his USMLE Step 2 Clinical Knowledge exam tangentially to the PNA (Soares' Step 2 CK total of 273 was in the top three percent of all results in 2019).
"It completely changed the way I studied," Cunha says of Dr. Dustyn Williams' instruction method.
"I know that some people still think the exam hasn't been fair [for them], but they're exactly the same people who were still trying to use the old method [of studying] for the exam," Brito, who completed the PNA last year, says.
"They simply didn't adapt. For those who went out, did their research and wondered 'how do they do it in the US?', it was really a pleasant surprise for us."
Founded last July, MedApprentice grew out of Cunha and Soares' clearly credible approach to getting ready to sit the new exam. MedApprentice now has around 2800 subscribers for its weekly study newsletter (there are around 2500 medical graduates every year, in Portugal).
Hosted by Cunha and Soares, MedApprentice also launched a podcast, in which they discuss potential clinical situations – and the best way to respond to them. Heading into last November, they were seeing around 1000 listens of it a week.
More than 15,000 overall listens have turned it into one of the most popular medical podcasts in Portugal.
Last November, 2587 masked med students took the PNA, despite the restrictions caused by COVID-19. To accommodate for social distancing, exams took place in larger indoor facilities in 2020, including the Feira Internacional de Lisboa, which hosted the 1998 World's Fair.
For those who went out, did their research and wondered 'how do they do it in the US?', it was really a pleasant surprise for us.
Med students infected with COVID-19 weren't allowed to participate, and have had to decide whether to take it again this November – or enter a 'general training internship' to attain licensure.
For many of the rest of them, Cunha, Soares, and Brito have showed a new way up the residency river – and a big step away from the past. Those long days at Justiça e Paz certainly worked out, well.