Next month, a relief measure triggered early in the pandemic by the United States government will once again impact the lives of those Americans with student debt.
Paused since April 2020, federal student loan repayments are set to resume in January. For American medical students, the near-two-year reprieve from the excessive burden that comes with practicing medicine will soon come to an end.
Med students in the U.S. have the largest student loan debts out of all American college graduates, after dentists, and owe more than fellow future physicians, internationally.
Last year, the median loan debt for medical students was around $207,000, a figure that had increased $40,000 since 2009. Over the last 12 years, that's a rate three times faster than inflation.
Canadian med students graduate with about $78,000 in loans, whereas the figure is approximately $50,000 in Australia and New Zealand. The average med student loan debt in the United Kingdom was around $106,000 in 2015.
Government assistance (sometimes with zero government loans) and capped tuition ensure that medical education remains affordable in those countries. In China, massive government subsidies ensure that tertiary education leads to virtually no student loan debt.
What I worry about is that if this is happening to doctors—if doctors can't even do something about student loan debt—what hope is there for anyone else?
Medical education's slice of America's $1.73 billion student loan problem is largely attributed to rising tuition costs, high-interest private loans, and slow-moving bureaucracy that offers little in the way of alternatives.
Federal, state, and institutional schemes—which often encourage young physicians to practice in underserved communities in exchange for loan forgiveness—offer some way through the malaise. The eventual assistance of more competitive salaries spurs many students on, too.
In the meantime, there are few signs of change to this problem that has widespread consequences that extend as far as patient care. "The way we produce doctors is expensive, and we all benefit if we can do it at lower cost," David A. Asch, Justin Grischkan, and Sean Nicholson wrote for STAT last year.
"The costly production of doctors is part of the reason what doctors do is so expensive. It is part of the reason a more diverse population doesn't enter medicine. It is part of the reason that philanthropy [to make] medical school less pricey isn't available for making cancer care better."
Running the numbers
Titled "Physician Education Debt and the Cost to Attend Medical School," an extensive Association of American Medical Colleges (AAMC) report laid out the medical student debt problem in full last year. The findings made for sobering reading.
Seventy-three percent of American med students graduated with debt. One in five American med students owes more than $300,000. The indebtedness of Black and Indigenous med students is statistically more likely to exceed that of their White and Latino classmates—by up to $30,000.
"The four-year cost to attend medical school for the class of 2020 surpassed $275,000 at over half of all medical schools and exceeded $350,000 at 19 [private] schools," the report read.
"The four-year cost of attendance, which includes tuition, fees, and living expenses for each year of medical school, is the sum of four years of the data from an annual survey of each medical school's attendance costs.
"The cost of medical school can vary by year at the same school. For example, the cost of the third year of medical school is often more than the first and second years due to more months in the academic year, in part because of clinical rotations."
The report showed Latino med students have a median education debt of $190,000, less than that of White students ($200,000). Indigenous graduates usually owe $212,375, while Black med students graduate with a median debt of $230,000.
The costly production of doctors is part of the reason what doctors do is so expensive. It is part of the reason a more diverse population doesn't enter medicine.
Ninety-one percent of Black and eighty percent of Indigenous med students will start their practice with medical student loans. In contrast, seventy-five percent of White med students will graduate with debt. Gender differences were negligible.
Cold water was poured on the long-smoldering speculation that debt influenced specialty choices. "This powerful but unfounded claim persists in academic medicine circles," the report read.
The study also showed that tuition and associated study costs have slowly increased in recent years at both public and private med schools. Medical degrees from private colleges cost around $15,000 more than from public schools. Every year, the average cost of med school in America increases by $1,500, a trend moving slightly faster than the rate student debt has been.
A handful of med schools—including the New York University School of Medicine—offer free tuition to help curb students' debt burdens (NYU's scheme was made possible by a sizable gift and fundraising assistance by Home Depot's billionaire co-founder).
When adjusted for inflation, the relative cost of medical school is more than seven times what it was in the 1960s. This increase has been fueled by the rising cost of faculty and administrative time, course materials, and classrooms.
The most expensive med school for in-state residents is the Geisel School of Medicine at Dartmouth, which costs $73,659 a year. At $91,307, the University of South Carolina School of Medicine Columbia is the most expensive school for out-of-state residents.
"The data are clear," Dr. David J. Skorton, the AAMC's president and chief executive, said in last year's report, "[f]or most physicians, future earnings will permit repayment and the achievement of personal financial planning goals.
"Medical schools should continue to work to limit the debt levels of their students, consonant with prudent management of their institution."
The help at hand
Most med students carry some amount of premedical loan debt into med school. Adding extra heft to the anchor, residency relocation loans are needed by many students after graduation. High-interest private loans exacerbate matters, especially if repayment can't be deferred until after residency.
Outside of institutional help—Nashville's Meharry Medical College recently turned COVID relief funds into $10,000 "gifts" for its 956 students, some portion surely headed for loan repayment—all American states have active student loan relief and forgiveness schemes for new physicians.
Most state programs encourage young physicians to practice in isolated, rural, or under-resourced urban communities for several years in exchange for medical student loan debt relief. Some offer one-off payments, whereas others provide up to $50,000 a year for four years. Many state programs will see application cycles open until the year's close.
The U.S. government's last meaningful policy change on medical student debt relief came in 2007, when President George W. Bush signed the Public Service Loan Forgiveness (PSLF) scheme into law.
For participants who work for state or nonprofit providers, the program wipes the remaining student loan balance after ten straight years of on-time monthly payments. According to the AAMC Report, the PSLF scheme is pursued by 34% of medical graduates.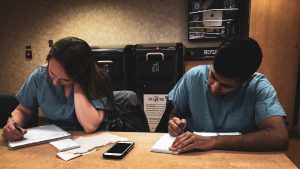 The COVID-19 pandemic did spark talk in DC about medical student loans. Two separate bills seeking medical student loan relief for frontline health care workers have been introduced to Congress by Democrats since last May. There has been noticeably little movement on both.
Last month, the White House announced $1.5 billion of health care funding assistance for underserved communities. The Washington Post reported that the money would be used to support more than 23,000 health care providers working through the National Health Service Corps (NHSC) and Nurse Corps.
Depending on their medical branch, support recipients can receive up to $100,000 in forgiveness in exchange for two to three years of work in a particular community. The funding also creates more scholarships for students willing to commit to two years of practice in exchange for "a full year of funding."
Around half of the NHSC's physicians serve in federally supported health centers. Others practice in rural or Indian (i.e., Native American) Health Service clinics, managed care networks, prisons, and Immigration and Customs Enforcement sites.
Despite the NHSC's recent injection of funding, the reality is that most American med students have seen limited assistance from their government beyond the current loan repayment pause. An audit released by the Government Accountability Office showed that only 57% of federal student loan scheme applicants receive assistance.
"While some applicants were simply ineligible," Akilah Johnson and Danielle Douglas-Gabriel wrote for the Post, "others were rejected because the limited funds are prioritized for those serving in areas with the most severe shortages."
'Actual daylight'
Two years ago in the Scientific American, Boston resident physician Daniel Barron recounted a conversation with his wife Kristin, a former med student. Nearly three out of four new physicians will be familiar with the theme.
"I think I imagined that my life would be really glamorous once I was an attending," she pauses," he wrote. "'We're fortunate, [she continued]. We have a roof over our head; we can start a family and all that.
We've got a crushing amount of student debt, and it's probably going to be a decade before we can see actual daylight.
"But we've got a crushing amount of student debt, and it's probably going to be a decade before we can see actual daylight.
"And what's frustrating is the idea that even though we've sacrificed so much already, our debt is an amount of money that schools might not actually need. In order for a school to have a little bit of breathing room on their books, we spend years digging ourselves out of debt? How is that fair?
"And what I worry about is that if this is happening to doctors—if doctors can't even do something about student loan debt—what hope is there for anyone else?"
EDITOR'S NOTE: At the time of writing—December 15, 2021—the information regarding the lifting of federal student loan pause in January 31, 2022 was correct, but it has since recently been extended to May 1, 2022. The Rotation will continue to monitor the situation and update here.
*Main image photo by Paul Morigi for Getty Images (licensed for The Rotation).