Over the last two weeks, the world has watched in shock as Russian military forces invaded Ukraine.
The human consequences of the invasion have already been vast. At least 1,000 civilians have been killed. A humanitarian crisis is in full swing along Ukraine's borders with Poland and Romania, as more than a million refugees and internationals pour west.
Given the conflict is still less than a fortnight old, the chances of things getting much worse seem high.
Finding their way through the catastrophe have been tens of thousands of international med students, a group who make up around a quarter of Ukraine's overall medical student body. Though the great majority are thought to have made their way out of Ukraine by now, some still remain stranded in bunkers near the frontline.
"It was a nightmare," Pawan Dubey, a fourth-year Indian student who escaped through Romania, says.
For years, students worldwide have been attracted to Ukraine by three things: the relatively high standards of its MBBS (medical degree) relative to similar sized countries, less competition for med school seats, and lower study costs.
For more than 18,000 aspiring Indian physicians—the most significant international contingent in Ukraine—the lure of affordable medical education in Eastern Europe is quickly unraveling into a nightmare.
Marooned by the conflict and a lack of med school space available for them in their home country, many now find their medical education journeys paused. Worse consequences may be on the way.
I don't know if things will get better in Ukraine or if the situation will normalize. Maybe I will transfer? I have no idea what I'm going to do.
With India now mandating that freshly minted doctors take the new National Exit Test—the exam required so that those educated abroad can gain a license to practice in their homeland—within two years of graduation, this pause, along with the Indian government's non-recognition of online class credits, could put entire medical trajectories on the rocks.
Considering India's refusal to recognize online classes taken by its Chinese-educated citizens, those returning from Ukraine shouldn't expect many favors from their homeland's medical regulatory bodies.
The overall situation has the potential to create a growing pool of capable, foreign-educated physicians who could be prevented from becoming Indian doctors at a time when the nation boasts only one physician per 10,000 patients.
Some see it as "a wake-up call" for India's faulty medical education pipeline, another unintended consequence of war without winners. Diplomats and politicians predicted the invasion for weeks before it began, but few saw the ripples in medical education until it was too late to stop them.
"Nobody thought it could happen, but yes, it happened, and here we are," Dubey says.
'I survive on water'
Every international medical student who has made it out of Ukraine has a dramatic story to tell. Dubey is no different.
After initially heading towards Poland, Dubey, who attended Ternopil National Medical University, got out over the Romanian border. A friend drove him, dropping him off around 10 miles from the border crossing at Siret.
He had to wait for ten hours before crossing on February 26. Dubey said he knows many med students who had to wait for days. Border guards made internationals "wait on purpose," and some even beat the escaping students. Others have reported seeing the same.
"I feel like I got lucky," Dubey says. He is now home, too, in Kota, Rajasthan.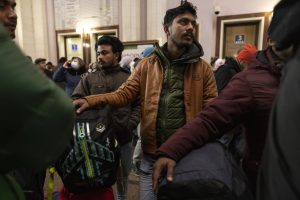 Unlike in Eastern Ukraine, med schools in Kharkiv and Ternopil played down the likelihood of invasion and provided no online classes (online classes were available for some Ukrainian schools, though many have since been suspended).
"Our university did not make [our studies] online," Dubey said. "We were confused. We didn't know what we should do.
"In the Western part of Ukraine [before the invasion], we were being told everything will be fine, everything will be okay. There was this pseudo-concept that everything was going to be okay."
Most international students waited for their governments to react, but Dubey felt the writing was already on the wall. He said he started making plans to leave after President Joe Biden, on February 11, recommended Americans leave Ukraine.
"Maybe students were being careless," Dubey said. "We should have taken this seriously and left the country when the US and UK were saying their people should come back to their own country."
With livelihoods invested in their medical education, and a lack of clear advice from their embassies, many international students choose to "hunker down" rather than flee. Last week, Naveen Shekharappa, a fourth-year med student from India, was killed after leaving a bunker to find food in Kharkiv.
Despite a sluggish start to helping its students in Ukraine, the Indian government has swung into action in an impressive way over the last week. As part of Operation Ganga, dozens of Indian Air Force "mercy" flights have brought nearly 16,000 back to the subcontinent from cities across Poland, Romania, and Hungary over the last week and a half alone.
[Ukraine is] a popular choice for those who do not have the grades to enter publicly-funded medical colleges [in India]. The latter have an acceptance rate tougher than Ivy league colleges, with 16 aspirants chasing one medical seat.
Around 700 Indians are amongst the 2,000 international students still stuck in Sumy, located close to the Russian border. On Monday, a temporary ceasefire to allow civilians to leave four Eastern Ukraine cities failed, meaning they remain stuck. Their situation is becoming desperate.
"After Naveen's death, I started eating once a day," Shweta Raj, a 22-year-old Indian med student, told CNN. "What if something happens to me while I'm standing in line [to get food]? So I eat once a day. I eat very little. I survive on water."
The Ukrainian drawcard
Medical education is good business for Ukraine. Last 2021, international students spent US$542 million to study there. Adjusted for population, international students bring twice as much value to the Ukrainian GDP as students from abroad do for the United States.
Ukrainian med school is especially popular for Africans, mainly from Ghana, Nigeria, Morocco, and Egypt. Indians are by far the biggest group there, however. It is thought around 4,000 new Indians sign up to study for the six-year MBBS degree in Ukraine every year.
They are there due to their performance in the National Eligibility cum Entrance Test (NEET), a high-stakes MCAT equivalent that determines the country's domestic med student pipeline.
Last year, more than 1.6 million students registered for NEET. More than 800,000 cleared the examination. However, seats at government-administered med schools in India were limited to around 90,000.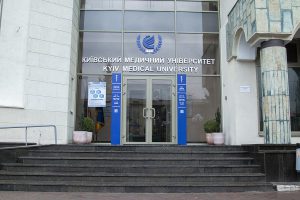 Those that don't get one of the initial spots have two choices. They can either apply to an expensive private school in India or study abroad.
For most, the choice is easy. Vice News reports that private colleges in India can cost up to US$20,000 a year, compared to around $6,600 a year in Ukraine. China and the Caribbean are also more affordable options, offering comparable costs.
Ukraine has encouraged its Indian pipeline over recent years. According to the Economic Times, Ukrainian medical institutions had created a coaching and instruction network in India and had a large number of recruiting agents on the ground there.
To study in Ukraine, students need only to have cleared their NEET. With most classes given in English and two years of internship programs incorporated into a six-year study schedule, med school in Ukraine is highly appealing.
"[Ukraine is] a popular choice for those who do not have the grades to enter publicly-funded medical colleges [in India]," Vinod Dixit, a New Delhi education consultant, told The Diplomat.
"The latter have an acceptance rate tougher than Ivy league colleges, with 16 aspirants chasing one medical seat."
The regulator will not budge
For Indian students returning from Ukraine, the only ones being met with good news are those with just internships left to complete.
Citing the "compelling" nature of the war, the Indian National Medical Commission (NMC) ruled last week that med students who have graduated from their studies in Ukraine but have yet to finish mandatory 12-month internships will be able to do them in India.
That generosity doesn't extend to med students in earlier years, however, with the NMC saying they won't be able to transfer less-advanced students domestically. They've also offered little guidance on the ability of students to transfer to other international med schools.
The Indian Medical Association (IMA) has asked Prime Minister Narendra Modi to step in, suggesting that the government increase med school seat numbers by up to five percent to accommodate returning Ukrainian-educated students.
Though their thinking is in the right place, integrating thousands of foreign-educated med students—all at different stages in medical school—seems a towering logistical challenge. Unsurprisingly, the NMC has yet to budge.
"Around 18,000 students have returned from Ukraine so far," an NMC official told Indian Express earlier this week.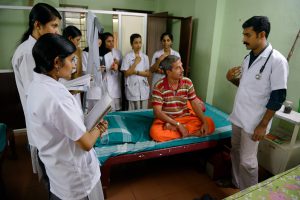 "There are around 85,000 MBBS seats in India. How can we accommodate nearly one-fourth that number of additional students? Our medical institutes and teachers are already overburdened. It's not practical."
Online classes seem to be the obvious answer for continuing education, but official recognition of that switch—and the value gained from remote learning—is already creating headaches for foreign-educated Indian med students.
Large numbers of Indian students studying in China saw their lessons go online early in the pandemic, a move whose practical wisdom the NMC has refused to recognize.
Though China is starting to open up in-person classes, pandemic-era travel restrictions mean Indian students are unable to travel back to China for the time being. More than 23,000 Indian med students study in China.
A number of them are lobbying the Indian government to allow them to work with the Chinese government and med schools to allow them back in. Around 150 Indian students brought a case to the Delhi High Court in an attempt to force their way back to China. But without movement from Chinese authorities, it is hard to see it going anywhere.
"These students are suffering academically, financially, and mentally for the past two years," Faisal Shaikh, State General Secretary of the National Students Union of India, says.
"With restrictions imposed, they are not able to return to China, and doing medical education online is impossible in reality. If the Indian government coordinates with the Chinese government on this, these students can return to their education."
"I have no idea what I'm going to do."
Since 2005, Indian students educated abroad have had to complete a screening test —the National Board of Examination's Foreign Medical Graduate Exam (FMGE)—to practice medicine at home.
Historically, their chances aren't great. More than 4,000 Indian students with Ukrainian medical degrees take the FMGE each year. Only around 700 pass.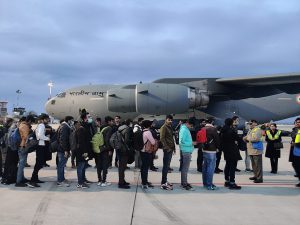 This year, the FMGE will be replaced by the new National Exit Test, which overseas medical graduates will have to complete to practice. Though welcomed by returning students, the test must be completed within two years of their completion of medical studies.
The longer the Ukrainian conflict continues, the more likely the two-year rule will start to cause Ukraine-educated students to worry. If the NMC doesn't budge on its remote learning rule—for both Ukraine and Chinese educated students—the problem will become bigger for Indian medicine writ large.
A generation of tens of thousands of capable, well-educated young doctors could end up lost, all because of a stubbornness to recognize online learning and reluctance to accept a return to pre-pandemic travel.
"This is a question that has been going over in my mind, what are we going to do?" Dubey says. "I don't know if things will get better in Ukraine or if the situation will normalize. Maybe I will transfer? I have no idea what I'm going to do."
War may have kickstarted the crisis for Indian students, but disruptions in learning and geographic displacement can happen in peacetime, too. Medical regulatory systems are going to be challenged time and again over the coming years.
Whichever cohort is affected next will be a long way from the Russian tank columns making their way toward Kyiv.