Few decades in American history have provided a legacy as long or as important as that of the 1860s.
Claiming more than 600,000 lives, a bloody four-year civil war was fought over the institution of slavery. The Constitution's 13th Amendment ended its existence in the United States in 1865. President Abraham Lincoln was assassinated the same year. Reconstruction in the South began, evidently leading to Jim Crow laws that would last another century.
The same conditions that led to the decade's violence, uncertainty, and change also contributed to the founding of osteopathic medicine and osteopathic manipulative treatment (OMT).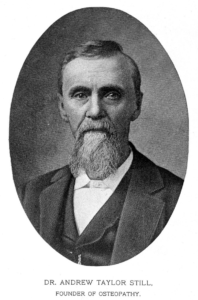 Some see it as medicine's answer to jazz: "a uniquely American tradition." The involvement of the Civil War and Jim Crow only strengthen that claim.
At the heart of it all is a self-taught frontier physician whose personal tragedy and Civil War despondence led to a rejection of modern medicine and a leap into a new one. Indeed: Andrew Taylor Still's foundation of osteopathic medicine was a medical microcosm of the transition his nation was making itself.
More than 120 years after he died, Still's medical approach now finds itself better supported and positioned than any other time in its history. The struggle towards it has been a wild one with a cast of characters and settings deserving of the ride.
"As historians, we must be held accountable for our historic references and for our interpretations of osteopathic history," Dr. Stephen Paulus, a DO and historian of osteopathic medicine, says.
"Over the past 100 years, DOs have not generally been dedicated—or trained—to respect accuracy in recording the details of our rich and vibrant history."
"Bleeding Kansas"
Andrew Taylor Still was born during the summer of 1828, in a log cabin in Lee County, rural Southwestern Virginia.
He was the son of a circuit preacher-physician who ministered, in both capacities, to Methodist churches in the Lower Appalachians. Abraham Still was also a self-taught doctor.
For the founder of osteopathic medicine, early life was hardscrabble. One of nine children, he worked the family farm in Virginia and Bloomington, Missouri, where the Stills moved when Andrew was nine.
His father, a staunch abolitionist, continued to preach in Missouri. Abraham's anti-slavery sermons would receive a hostile reception there through the 1840s, helping trigger a move to Kansas in 1853. Andrew, now married with two children, followed.
Around the same time, Still began practicing medicine solo. Though often a medical assistant for his father, it is understood that Still had limited formal training.
"At first, Still had a typical frontier medical practice, sometimes traveling great distances to reach the bedsides of his patients," an Andrew Taylor Still University (ATSU) biography of Still reads.
"Once there, he employed the usual methods of the time, outlined in the medical books owned by him: bleeding, blistering, purging, and so on."
Over the past 100 years, DOs have not generally been dedicated—or trained—to respect accuracy in recording the details of our rich and vibrant history.
The 1850s saw Kansas in turmoil. In 1854, the infamous Kansas-Nebraska Act led to both territories' admission as states, but let residents decide whether to allow slavery or not.
A series of violent clashes between pro- and anti-slavery settlers broke out, known as "Bleeding Kansas" and seen by historians as an essential precursor to the American Civil War. Both Still men were often harassed by pro-slavery elements as they attempted to practice medicine.
Southern medicine at the time was rife with racist practices. In the 1840s, Alabama's J. Marion Sims—still recognized as 'the father of gynecology'—performed his notorious experimentation on Black female slaves as he invented the speculum.
The founder of osteopathic medicine had little in common with the pro-Confederate Sims. Still served in several Union volunteer units as a medical officer during the Civil War, taking part in the Battle of Westport near modern-day Kansas City in 1864.
The 'lightning bonesetter'
The same year, a spinal meningitis epidemic had brought immense suffering to Still, claiming the lives of two of his own children and a step-child. Another of his children died of pneumonia.
According to ATSU, Still's "inability to save his family, coupled with his grim experiences as a Civil War doctor, led [him] to reject most of what he had learned about medicine and search for new and better methods."
Through the late 1860s and early 1870s, his research and observations convinced him that the body's musculoskeletal system played a massive role in health. "He concluded that the body contained all of the elements needed to maintain health if properly stimulated."
"Still's explorations were grounded in the study of anatomy," ATSU continues. "Having grown up as a hunter and farmer, he already had a basic understanding of the structural relationships between bones, muscles, and organs, knowledge that he now extended through the study of human skeletons.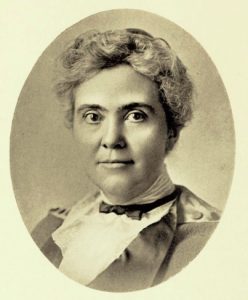 "He became convinced that most diseases could be alleviated or cured without drugs. The key was to find and correct anatomical deviations that interfered with the free flow of blood and 'nerve force' in the body."
OMT was born out of Still's understanding that manual techniques applied to the body's structure could achieve this. Yet when it came to practicing his new approach, Still faced a mountain of obstacles.
A local church described his claims of hands-on healing as "sacrilegious." Embarrassed by his criticism of mainstream medicine and the attention it garnered, much of his family distanced themselves. When Still asked to talk about his research at Kansas's Baker University—which his family had helped establish before the Civil War—he was turned down.
Still moved back to Missouri in 1874, eventually settling in Kirksville. After opening a small clinic early the following year, patients began to flock. His reputation as a "lightning bonesetter" grew. Many connected with Still's 'hands-on' approach, which he officially coined "osteopathy" in 1885.
Still founded the American School of Osteopathy (ASO) in Kirksville in 1892. The first class contained 21 students, including five women. Graduating in 1894, Dr. Jenette H. Bolles was recognized as the first female osteopathic physician.
In 1897, Missouri became the first state in America to legalize osteopathy as a form of medicine. In 1898, Still's son Summerfield—a member of the ASO's first class—established the second osteopathic med school in Des Moines, Iowa.
As the century closed out, the likes of Teddy Roosevelt, Helen Keller, and Mark Twain were avowed supporters of Still's approach.
The fight for recognition
Despite the bold steps forward, America's medical establishment remained steadfast in its opposition to osteopathic medicine.
States were slow to follow Missouri in recognition of osteopathic medicine. In 1901, Twain testified at the New York state house, unsuccessfully advocating for the licensure of osteopathic medicine. "To ask a doctor's opinion of osteopathy is equivalent to going to Satan for information on Christianity," he once said.
The infamous Flexner Report, in 1910, would prove that Twain wasn't just being melodramatic. The report—which also had a corrosive impact on Black medical education—saw Flexner slam osteopathic medicine, saying the field required far more scientific, proven understanding.
Over time, Flexner's jolt would result in the expansion of osteopathic facilities, an extension in education length, and greater integration of chemical agents into the Still approach. At the time, however, it only served to hurt the field.
In contrast to traditionally trained physicians, who began to gather in cities and specialize in their favorable reaction to Flexner's calls to establish more scientific foundations to their practice, "[…] DOs stayed behind to work in primary care and rural medicine, where many [lacked] the time, money, and high-volume hospitals necessary to pursue systematic scientific research on osteopathic techniques," Eleanor Cummins wrote in The Atlantic last year.
This skepticism from the medical establishment meant it took decades for all 50 states to grant DOs the same rights to practice as MDs. Not until 1973, after Mississippi finally began licensing its osteopaths, did the last holdout in the United States finally recognize them as physicians.
"This skepticism from the medical establishment meant [that] it took decades for all 50 states to grant DOs the same rights to practice as MDs. Not until 1973, after Mississippi finally began licensing its osteopaths, did the last holdout in the United States finally recognize them as physicians."
A separate licensure fight dragged on in California through the 1960s and 1970s, with the state refusing to recognize the right of a DO to practice. In 1974, California's Supreme Court would later find that decision unconstitutional. The U.S. Army didn't place DOs on equal footing with MDs until 1966.
After the National Board of Osteopathic Medical Examiners introduced its first COMLEX licensure examination (Level 3) in 1995, it took Louisiana more than a decade to recognize it. For 11 years, DO students in the state would have to pay for—and pass—the USMLE exam along with the COMLEX one before being allowed to practice.
On an institutional level, Louisiana's examination delay appears as one of the last hitches in osteopathic medicine's giddy-up.
There are now more than 135,000 practicing DOs in the United States, making up 11 percent of the overall physician workforce. Around a quarter of all American med students are studying OMT.
Recent years have seen DO and MD students participating on increasingly similar tracks to practice. Last year a single system for accrediting residency programs was put into place, ensuring MDs and DOs would be hustling for the same residency spots.
Closing the loop
Though not recognized as such in his own day, Still remains one of the most influential figures in American medical history. He died in Kirksville on December 12, 1917, aged 89.
"Dr. Still believed that by correcting problems in the body's structure, through the use of manual techniques now known as osteopathic manipulative medicine, the body's ability to function and to heal itself could be greatly improved," AACOM writes.
"He also promoted the idea of preventive medicine and endorsed the philosophy that physicians should focus on treating the whole patient, rather than just the disease."
Given the opposition osteopathic medicine faced for much of his lifetime, it's hard to imagine Still believing the trajectory it would eventually take.
More than 160 years after the decade that shook the United States to its foundations, the legacy osteopathic medicine is medicine's proof of the good that can come from the very bad.