Those who enter medical school are rarely in any doubt.
They know that the coming years will be long ones, filled with levels of mental and emotional exhaustion near-unique to their particular career trajectory.
Yet while the various guard rails can be created to buffer themselves from the continual tiredness, the numbers show students can only take so much.
Up to 70 percent of med students experience intense anxiety, compared to 14 percent of their same-age-group peers in the general population. Burnout is a commonplace occurrence that, unchecked, can turn into depression.
"Depression was like an opportunistic infection that took me over," Dr. Rahael Gupta told the University of Michigan's Lab Blog, in 2018.
"I was sad, I lacked confidence, I was exhausted. And I tried to push through until it became obvious that simply wasn't possible."
The intense pressures of med school and career
Med students and new doctors face the pressures of tremendous debt and other financial stressors, information overload, enormous responsibility, long hours of work or school, a heavy workload, fear of failure, and sleep deprivation.
Students are especially at risk during their internship year, a period often marked by the transition to a new city and a demanding, new work environment.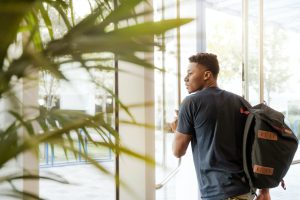 Residents and new doctors also find themselves in emotionally challenging situations as, for the first time, they care for patients with poor prognoses and witness death.
While caring for patients' needs all day, it can be tough⁠—almost impossible⁠—to find time to care for their own.
Fear of revealing weaknesses
Stress often builds up to an extreme level in med students, because they know it's an expected part of the journey. While stress is normal, stress management strategies play a critical role in bringing it down to an acceptable level.
In recent years, researchers and institutions have become increasingly invested in combating the stigma of mental health in medicine. Physicians in the U.S. have higher rates of suicide than the general population, signaling the prevalence of chronic stress, anxiety, and depression in the field.
A recent report shows that 58% of female doctors and 66% of male doctors who experience burnout and/or depression have never sought medical help and aren't planning to do so.
Depression was like an opportunistic infection that took me over.
According to the same study, outdated questions about mental health on many state licensing applications cause the stigma to persist. Fearing the scrutiny they may face for a history of therapy or medication usage, doctors sometimes feel that seeking help could affect their reputation or ability to practice.
"I spoke with a surgeon who is absolutely wonderful," Gupta said.
"But he told me: 'As someone who values wellness I think what you're doing is great, but I have to be honest — if a student on their residency application said they were depressed, I would think twice about giving them an interview.'"
The field of medicine must embrace the value of psychiatric treatment for doctors rather than tacitly discouraging it.
Lack of social support
Not having a strong support network acts as a major risk factor for depression and anxiety in med school students and new doctors.
"The level of struggle is at epidemic levels," Dr. Srijan Sen, who has conducted extensive research on medical school and mental health, says, "but because of the culture of silence, people feel like they're the only ones going through it."
Studies have shown that Black med students and doctors are at a particularly high risk of these conditions due to the additional pressures they face, through racial microaggressions and implicit bias. Lack of a strong support network at their school or in their early career also affects many Black med students.
Looking for an institution with a robust campus community and resources for students of color can enhance their med student experience, allowing them to connect with peers and mentors who understand their distinct challenges.
Combating depression and anxiety
Changes in habits aren't always enough to fully address these mental health conditions, but they can definitely play a role.
If you want to introduce new habits, like getting more exercise or eating better, try working on one or two at a time. After doing something for several weeks, it will become a habit—something you naturally do as part of your routine.
Trying to introduce too many healthy habits all at once can backfire, as it will feel too hard to keep up with while you're still integrating these new practices into your life.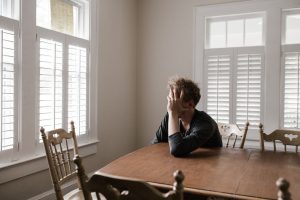 That can leave a person feeling more overwhelmed and defeated, rather than building morale. Celebrate the small victories you achieve in making healthy changes on your journey to better mental and emotional well-being.
If you're struggling with anxiety or depression, find a therapist you trust to provide professional guidance. While many people fear being seen as a failure if they admit to having weaknesses, the opposite is the case—being vulnerable takes courage, and it allows you to turn your weaknesses into strengths.
You can better empathize with and guide others who experience their own challenges when you've worked through your own.
Learning time-management strategies will also help you move beyond feelings of overwhelm, getting more from your time in school, work, and your personal life.
Build a strong support network and rely on it. Rather than bottling up your feelings and downplaying the stress that you feel, talk with a trusted friend, mentor, or family member.
One med student put it; "I live with four other people in my year, and one of the things that work for us is coming together at the end of the day to cook dinner."
The level of struggle is at epidemic levels, but because of the culture of silence, people feel like they're the only ones going through it.
When one of them witnesses a patient's death, they talk about it together.
Life outside medicine
Maintaining relationships outside of med school and work will prevent being a doctor from becoming your full identity. When you see yourself as a whole person, rather than just your career, the challenges you face at school and work may not feel quite as earth-shaking.
Many med schools are working to implement programs and resources that promote mental health, encouraging students to seek support in managing stress, depression, and anxiety.
If considering schools, you might look for an option that prioritizes students' mental health in these ways. These programs know that doctors with good mental health will provide better care for their patients, so it's an issue to thoroughly address rather than avoid.